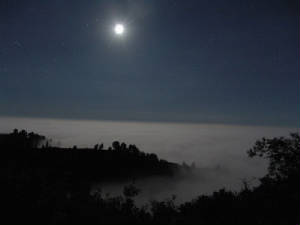 WindTree is a beautiful healing place nestled high in the Santa Cruz Mountains (Elevation: 2,700-2,800¹), toward the end of the mountain ridge in Northern California. Accessing the property is an approximate 45-50 minute drive from the surrounding towns of Los Gatos, Santa Cruz, Watsonville and Gilroy. The winding roads to the property offer some of the most spectacular views of the Santa Cruz mountain area.
Windtree is composed of beautiful meandering paths amongst Pine, Madrone and Manzanita, with majestic views of the Monterey Bay to the west and the Hollister and Gilroy valley to the east.
Raised garden beds and Apple, Peach, Pear, Fig and other fruit trees enhance the present, central living area. There are a number of rustic buildings including a Council Lodge, Main Lodge, 2 cottages and 5 cabins. Some indoor accommodations and numerous sites for camping are available.
There is a large, well used Medicine Wheel and "dancers deck" tucked away in the pine forest.